Mothers Day at Singa
Singa Lodge and our amazing kitchen team have prepared a special menu for you and your mom this Mother's Day. 
A scrumptious 3-course dinner served fresh to order from our kitchen will be held on 14 May 2017 at our lodge. View the delicious menu below and call us to make your special reservation to celebrate your mom. All mothers will be receiving a special gift at the end of the dinner to celebrate being an awesome mother!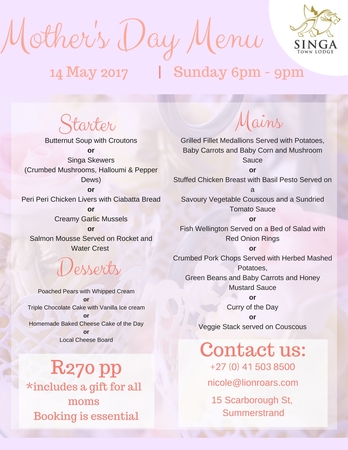 Starters include crowd favourites like Butternut soup served with croutons and our famous Singa Skewers. Fill your belly with the ever flavourful Stuffed Chicken Breast with a Basil Pesto served on a bed of Vegetable Couscous topped with a Sundried Tomato Sauce and end off the evening with Triple Chocolate Cake with Vanilla Ice cream. 
If that delicious option does not tingle your senses why not play around with the many other options on our menu until you find your perfect pick. 
All this is available at a  small cost of R270 per person which includes a lovely gift for all mothers attending our celebratory dinner. 
Download our Mother's Day 2017 Menu here
Contact Us:
(T) +27 (0) 41 503 8000
*Booking is Essential